Toyota RAV4 Maintenance Schedule

As any mechanic will tell you, regular maintenance is the best way to keep any vehicle in good condition. And if you want to be confident that your Toyota RAV4 can travel near Boerne, San Antonio, and Kerrville, TX, with ease, you should try to follow the recommended maintenance schedule as closely as possible.
At Toyota Boerne, we want to give you a run-down of some of the services and inspections you will need to do regularly according to your Toyota RAV4 Maintenance Schedule. Then, schedule a service appointment with us so we can help make sure your vehicle is running safely and smoothly!
Before You Begin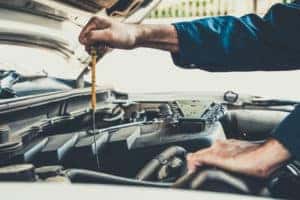 It's important to note that if you drive in severe conditions—extremely hot or cold weather, dusty conditions, stop-and-go traffic, or with heavy duty towing—you will need to get your vehicle serviced more often. Some parts will wear faster and need to be replaced more frequently, so make sure you're paying attention to your driving habits, and your vehicle's condition.
Every 5,000 Miles or Six Months
Every six months, there are a few simple inspections you should perform. Check all fluid levels—such as brake fluid and transmission fluid—and inspect your wiper blades, brake linings, drums, and brake pads/discs.
Additionally, when you bring your RAV4 to a service center, you want to make sure to get the tires rotated. Rotating your tires frequently will help make sure they wear evenly so they will last you longer.
Every 10,000 Miles or 12 Months
At one year, you should add replacing the engine oil and oil filter to your list.
Replacing your engine oil and oil filter at regular intervals can go a long way in increasing the lifespan of your vehicle. Doing this often helps keep your engine from overheating or getting a buildup of residue. So, rather than wait too long to replace it, try to stay on top of it.
15,000 Miles or 18 Months
At this point, you will want to inspect:
Brake Lines and Hoses
Cabin Air Filter
Exhaust Pipes and Mountings
Radiator and Condenser
Steering Gear
When doing these inspections, you should keep an eye out for signs of a leak, as that can be indicative of a larger problem.
Moving forward from here, if your engine wasn't filled with 0W-16 oil, use that to replace the engine oil this time around. 0W-16 oil is preferred because it is designed to help improve engine efficiency and cut down on warm-up time.
30,000 Miles or 36 Months
Once you hit the 36-month mark, you should replace the cabin air filter and engine air filter.
You can tell the engine air filter needs to be replaced if you see signs of damage or excessive wear and oiliness. Also, if you drive around urban regions, dirt roads, deserts, or dusty paths, replace your cabin air filter more often to improve the air quality within your vehicle.
90,000 Miles or 108 Months
After about nine years, you should continue doing the above repairs and basic inspections, including the automatic transmission fluid cooler.
The cooler is designed to keep the fluid from overheating, which will keep the whole system from overheating. While you are checking the transmission fluid cooler, keep an eye out for any leaks in the transmission. If you find any leaks or damage, contact a service center as soon as possible.
Get Your Toyota RAV4 Serviced Today
If you have questions about the regular maintenance and inspections required for your RAV4, contact our service center. Our expert technicians know your SUV inside and out, so they can get you back on those roads near Boerne, San Antonio, and Kerrville, Texas, in no time.
Schedule your maintenance at Toyota Boerne today!