Toyota Tundra Tire Size
Cruising down the roads near Boerne, San Antonio, and Kerrville, TX, is made possible by the multiple important components of your car. One of those components is your tires. Tires are among the most powerful parts of your vehicle, so it's vital to keep up with your vehicle's tire maintenance.
That's why our team at Vic Vaughan Toyota of Boerne decided to help you out with this page. Here, we'll tell you all about the Toyota Tundra tire size, when you should get your tires looked at, and how to decipher tire size. Read on for more information.
Toyota Tundra Tires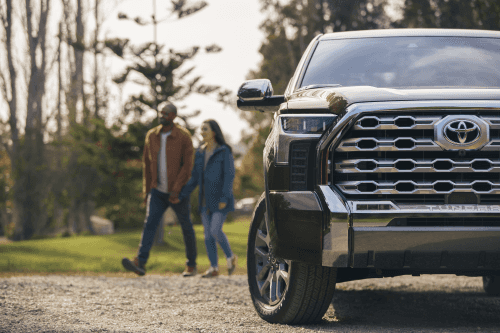 The first thing to know about tires is what options are available for your car. With the Toyota Tundra, you have three options. The standard tire size on the base trim is P255/70R18. Other options include the P275/65R18 and standard on the higher trims is the P275/55R20 size.
At first glance, these tire sizes might look like a randomly generated password and be hard for you to decipher. However, our team is here to show you exactly what they mean.
How to Read Tire Size
Reading tire sizes can be easy to do, and we're going to show you how to do it. When it comes to your Toyota Tundra, we'll break down each of the components in the standard size, P255/70R18. Check it out:
P: The first thing that the tire size starts with is the tire type, which is indicated here by the letter P. This means your car has passenger tires.
255: Next up is the tire width. For the standard Toyota Tundra trim, the width of the tire measured from sidewall to sidewall is 255 millimeters.
70: The aspect ratio is the next number to pop up. Using the width, we can determine the required height of your tire. The number 70 means that the height needs to be 70 percent of the width.
R: Next is the type of construction. An "R" means your car has radial construction, which means that the tire's internal cords are oriented in a radial direction across the tire.
18: Last but not the least is the diameter of your tire. A standard Toyota Tundra tire is 18 inches and can fit on a rim of the same size.
Tire Maintenance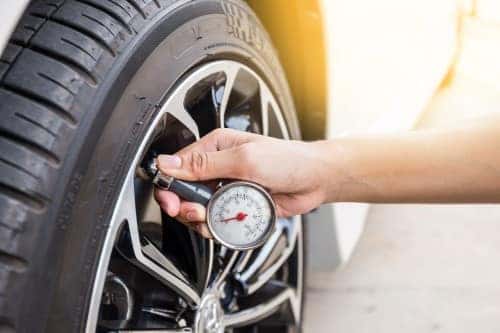 If you're wondering about when you should have your tires looked at, you've come to the right place. Here at our Toyota dealer, we provide maintenance guides for many of our Toyota vehicles, which includes tire maintenance. As a first step, these guides are a great way to double-check when your tires need to be serviced.
For Toyota Tundra tire maintenance, we suggest that your tires should be rotated every 5,000 miles. This is because regular tire rotation can extend the lifespan of your tires and ensure that the tread wears evenly. Your tires have a huge impact on your vehicle experience, including the ride quality, efficiency, braking performance, and more.
If you want to check the tread yourself, an easy way to do it is with a penny. Simply insert a penny into the grooves of your tire tread with Lincoln's head upside down. If his head isn't hidden by the tread, then it's time to replace your tires.
Our Tire Center
If your tires need replacing, our service center can help with that. Now that you know how to read tire sizes and why it's important to have your tires rotated and replaced as needed, we're happy to tell you how replacements work.
Since our team is made up of factory-trained and -certified Toyota technicians, you can rest assured knowing that your Tundra is getting the service it needs. Whether you need the standard P255/70R18 or the available P275/65R18, our team will make sure that your tires are mounted, balanced, and inflated exactly the same way in which your original tires were.
Learn More About Your Toyota Tundra Tire Size!
If you're keen to learn more about Toyota Tundra tire sizes, we invite you to visit us at Vic Vaughan Toyota of Boerne. Our experts are here to help drivers around Boerne, San Antonio, and Kerrville, TX, keep up with their tire maintenance and stay safe on the road.
Schedule your appointment online or visit our website to find out more.
---