When you get into a car accident, there are certain steps you may want to take in order to help make sure everyone is safe, to follow the law, and to get the insurance claim process started.
The following steps may help guide you make the right decisions if you've been in a car accident, whether you were at fault for the accident or not.
---
When involved in a collision, it's your right to choose the shop that repairs your vehicle.
Toyota of Boerne Certified Collision Center makes that decision easy. Our Toyota Certified Technicians are factory trained experts in the repair of Toyotas, ensuring your vehicle will be repaired to Toyota factory specifications. You'll receive Toyota Genuine Parts, designed to meet the same quality, safety, and appearance specifications that led you to buy your Toyota to begin with. This also helps to maintain your warranty and protect your investment. It's exactly what you need to get back on the road with confidence. It's this standard of quality that sets us apart.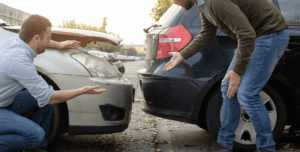 STEP 1: CHECK YOURSELF FOR INJURIES.
If you are injured, call 911 or ask someone if you are incapable. If you're seriously injured, try not to move and wait for emergency personnel.
STEP 2: CHECK ON YOUR PASSENGERS.
If you're not too hurt to move, check on the well-being of the other passengers in your car. If anyone is injured, get on the phone with emergency services or ask a bystander of the accident to call for help.
STEP 3: GET TO SAFETY.
If you're able to, try moving to the side of the road or a sidewalk. If your car is safe enough to drive and is causing a hazard where it currently is, steer it to the side of the road. If not, leave it where it is and focus on getting yourself and your passengers to safety.
STEP 4: CALL 911.
Whether an accident is considered a minor fender-bender or a major collision, calling the police is important — and in some states, it's legally required. The responding officers will fill out an accident report and document the scene where the accident took place.  If the police aren't able come to the scene of the accident, you can go to the nearest police station and complete a report yourself.  When you file a claim with your insurer, they may ask for a copy of the police report to help with the claims process.
STEP 5: WAIT FOR HELP.
Turn on your hazard lights, turn off your engine, and use any road flares in your emergency car kit to warn other vehicles to slow down.
STEP 6: EXCHANGE INFORMATION.
After making sure you and any passengers are uninjured, exchange contact and insurance information with the other driver. Here are some of the most important details drivers should exchange after an accident:
Full name and contact information
Insurance company and policy number
Driver's license and license plate number
Type, color, and model of vehicle
Location of accident
You should avoid discussing fault when going over the facts with the other driver. When you file an insurance claim, the adjuster reviewing your claim will determine who's at fault based on an inspection of the vehicles and/or property damaged, information provided by you and the other parties involved in the accident, and any supporting documentation, like the police report or photographs from the scene.
STEP 7: DOCUMENT THE ACCIDENT.
In order to help protect yourself, please consider taking the following steps:
Identify the officers.
Once the police arrive, get the name and badge number of all responding officers.
Get a copy.
Ask the police officers present where you can obtain a copy of the accident report. Your insurer may ask for a copy of the report when you file a car insurance claim.
Take pictures.
Document the accident thoroughly by taking pictures of your vehicle from different angles, showing the damage done to both cars. It might also be a good idea to take pictures of the other car's license plate. You may be able to share photos with your insurer during the claims process to help support your claim.
Take down names.
Write down the names and addresses of all parties involved, including any passengers in the other vehicle.
Talk to witnesses.
If there were any witnesses to the accident, take down their names and their contact information as well.
To help keep all of this documentation in order, you can keep this accident information page in your vehicle.
---
Remember that NO one can dictate where YOUR vehicle can be towed or repaired: NOT the police, Towing or Insurance Company.  YOU have the RIGHTS to take your vehicle to any Automotive Collision Center you want.
---
STEP 8: CONTACT TOYOTA OF BOERNE COLLISION CENTER
You may want to call your Toyota Certified Collision Center after the accident. That way, they can tell you exactly what they will need to in order to get you back on the road.  Schedule collision service today!
An accident can leave even the most seasoned driver frazzled, but following these steps may help protect you from unnecessary worries. That way, you can focus on working with your insurance company to get your vehicle repaired as smoothly and as quickly as possible.
---
---