Toyota RAV4 Dashboard Lights

Every once in a while, you'll be cruising home after work, tunes blasting, when out of the blue, your Toyota RAV4 dashboard showcases a new light. You can't pull off, and you also can't look at your phone for answers. So, what do you do?
Knowing the ins and outs of your vehicle near Boerne, San Antonio, and Kerrville, TX, is important, which is why the Toyota of Boerne team has put together a list of six dashboard alerts to keep your eyes on while you're driving. When one comes on, don't forget to schedule a service appointment with us so that we can help you out with whatever you may need!
What Sort of Lights Are on My Dashboard?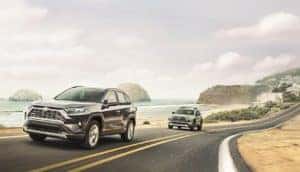 Your dashboard is the information hub of your Toyota RAV4. With it, you can know the ebbs and flows of your vehicle's performance. Now, with the number of lights that can appear on your dashboard, it's important to know the difference between a warning light and an indicator…
Warning lights: These alert you to any potential malfunction anywhere within your car. If you see a warning light illuminated at any point, you should consider taking your RAV4 into a service center when possible.
Indicator lights: These are designed to showcase a specific, working system somewhere within your car. In this case, indicators aren't immediate danger signs; rather, they're reminders your car is running as it should.
Malfunction Indicator Light
To begin, we have one of the most critical RAV4 dashboard warning lights: the Malfunction Indicator Light, which is more commonly known as the Check Engine Light.
The colored icon will appear as an engine block with the word "CHECK" underneath. If this light is illuminated, it can mean a few things, including a malfunction in your engine control or throttle system. Reach out to our service center if you see this light.
Charging System Warning Light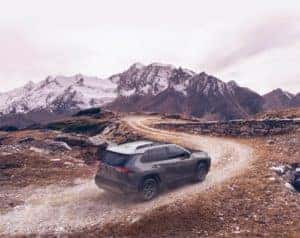 Another light to take swift action with is the Charging System Warning Light. This one is easy to spot as it appears as a car battery with the negative and positive charge symbols on either side.
If you see it on your dashboard, find a safe place to pull over and reach out to our Toyota dealer. This light is informing you of a malfunction within the RAV4's charging system—a problem that could leave you stuck if not tended to in time.
Low Engine Oil Pressure Warning Light
Our last warning sign to keep an eye out for is the Low Engine Oil Pressure Warning Light.
On your dashboard, this light will look like an oil can with a small drop of oil on its right side. Stay alert to this dashboard light, as it's notifying you that your engine oil level is low. You'll want to consider getting an oil change as soon as you see this light appear.
Automatic High Beam Indicator
For our first indicator light, we have the Automatic High Beam Indicator. This light resembles a headlight with an "A" inside of it, emitting light with its five horizontal lines to the left.
If on, this indicator is letting you know your automatic high beam lights are activated—a vital safety feature for early morning or after dark drives.
Fog Light Indicator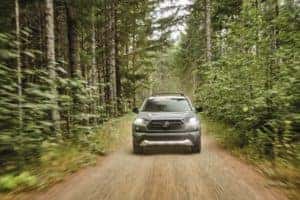 Akin to the Automatic High Beam Indicator, the Fog Light Indicator acts as an associate of sorts.
Its symbol bears a likeness to a headlight with a squiggly line through slanted diagonal lines—of course, representing a foggy drive. When this indicator is lit, it means the fog lights are working to ensure improved visibility in tough driving conditions.
Blind Spot Monitor (BSM) Indicator
One last indicator to feel reassured by is the Blind Spot Monitor (BSM) Indicator. You should be able to see it on the dashboard represented by the letters "BSM."
If you have this safety feature included in your RAV4, your dashboard is letting you know both the Blind Spot Monitor (BSM) and Rear Cross-Traffic Alert functions are working as advertised.
Let Us Help You With Your Dashboard Lights
Much like riding a bike or tying your shoes, you won't forget what these dashboard lights mean now that you've been introduced! That's great news for yourself and those you're with; you never know when this information might come in handy when driving near Boerne, San Antonio, and Kerrville, Texas.
Still, if you're ever curious to hear more about your Toyota RAV4 dashboard lights, our staff at Toyota of Boerne is here to provide some details that can give you peace of mind.